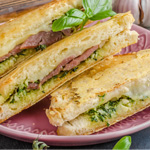 Home cooking is a fantastic way to have a good time, enjoying healthier and tastier foods. But it's not always easy to get started and the idea of cooking a meal from start to finish can seem rather daunting. To help you make the most of your home cooking adventurous, we've selected some of the easiest and tastiest lunch recipes you can try at home.
Mozzarella Grilled Cheese Sandwich with a Twist
Grilled cheese sandwich is a tasty lunch option and it won...
Read More