The fall is starting & the temperature is becoming cooler & the weather is sweeter. The pumpkin-scented candles and fall decor products aren't the only things you should add to your online shopping cart. As fall begins, with pumpkin cravings, you should try new causal plus size outfits to show off your curves. You can layer clothes with cute boots & cozy colorful scarves, which make your wardrobe more stylish & versatile. While investing in casual plus size fashion, you can invest in leather jackets, coats, wide pants, and less costly trendy outfits to match your looks easily. So whether you are finding a cute outfit for a date or an office party, countless fall casual plus size outfits are available to take your fashion game forward. To make your shopping experience easier, we've listed these 6 plus size casual outfit ideas for curvy women.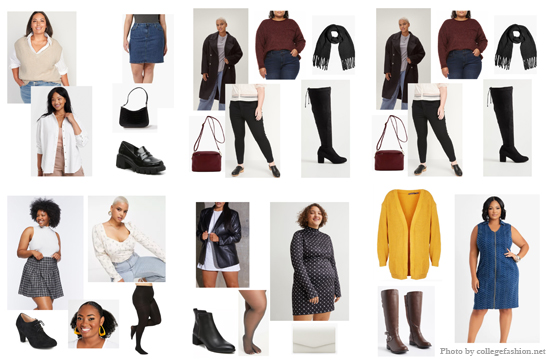 Casual plus size outfit #1: Sweater Vest, Top, Denim Skirt, Shoes, Bag
For the first casual plus size outfit, we are putting sweater vest. During this season, sweater vests come back in trend again. The sweater vest looks very cute & preppy along with keeps you warm in cold fall weather. You can start with a sweater vest & wear a white button shirt. Then try a denim skirt & black loafers with heels. You can also take a black shoulder bag to complete. Purchase all these plus size clothes & accessories from Avenue, available at a discounted price. You can use this look to go out for coffee, to the library, or even to class.
Casual plus size outfit #2: Sweater, Coat, Jeans, Boots, Scarf, Bag
Although the fall season is running, this outfit look also gives autumn vibes. First, find a nice coat. Specifically, the oversized black coat will be better for this season. The new trend is over-the-knee boots, so grab them to layer with this casual outfit. Or, you can also use classic suede boots, which go with skinny black pants & makes the entire outfit look sleek. For color variation, you can wear a burgundy sweater & same color bag to match both. If it's frigid, then add a scarf as well. This casual plus size outfit will turn heads like the fall season changes the colors of leaves. At Torrid, you'll find everything from plus size sweaters to coats with up to a 25% discount. Perfect for going out on dinner dates.
Casual plus size outfit #3: Top, Jacket, Pants, Boots, Sunglasses
If you're interested in moto jackets, then you can add a little more & try the sherpa-lined jacket. The lining gives extra comfort & warmth along with style. For the bottom wear, try plaid pants with a pattern. You can wear a lace-trim top under the jacket to add more details to the outfit. Wear black color ankle boots. The fall season is also a mixture of sunny days, so wearing sunglasses for eye protection gives a better look to the overall outfit. Order all these quality plus size tops & jackets from Rotita to get a massive discount on the purchase. Now, you have the most comfortable & stylish outfit that is perfect for hangout with friends & dinner.
Casual plus size outfit #4: Top, Skirt, Tights, Heels, Earrings
If you like peppy academic skirts & tights feel, then this outfit is for you. To mimic this look, buy a cream blouse with an open neckline or swap a turtleneck. Then wear a plaid skirt along with black tights. The lace-up boots are cute & give good preppy vibes to your outfit. But you can use loafers as well for a better finish look. Finally, add the earrings from Newchic to stand out more for the final look. You can wear this casual plus size outfit for drinking apple cider with friends or for a casual holiday dinner.
Casual plus size outfit #5: Dress, Blazer, Boots, Tights, Clutch Bag
The casual plus size outfit is great for nights or evening musical concerts. Because fall activities should not be just daytime, you should also look good at night. So to make the perfect look for a night out, getting a dress with the pattern will be a bonus. Wear it with the simple ankle boots from SHOEBACCA and sheer tights. You can wear a regular blazer, but faux leather will be a better choice. A wool coat is also fine if you don't have faux leather. Then grab a clutch & be ready to go night out with your friends.
Casual plus size outfit #6: Cardigan, Dress, Boots
We are adding some best fall colors to our final casual plus size outfit ideas. To match with falling leaves, mustard yellow & brown color looks amazing. This outfit is very simple, where you can wear a denim dress, brown color knee-high boots, and a yellow cardigan from Zaful. If the weather is colder, you can put a cream turtleneck under your dress. You can wear this outfit while going to class, work, internships, or even going out to pick apples with friends.
These are our top 6 casual plus size outfit ideas for women. Also, remember if you are plus size, that doesn't mean you can't find clothes to feel good & look fashionable. We have mentioned the exact outfits so you can dress up well & go out with friends.