Every tech product makes our life easier; otherwise, why would we think about buying them? For example, big screen tv enhances the experience of watching your favorite sports, and powerful computers help to play high graphics games more enjoyable. But, some tech products are made purposefully to improve your life, schedule & optimize your work, minimize stressful repetitive tasks, and more. For example, if you take heated coffee mugs, it designed to keep java warm while traveling or smart plugs to connect devices under the control of smartphones. By keeping optimization in mind, we've made a list of some useful, smart & cool tech products that will free up your hands, automate the tasks & help you give free time so that you can focus on important things that matters to you.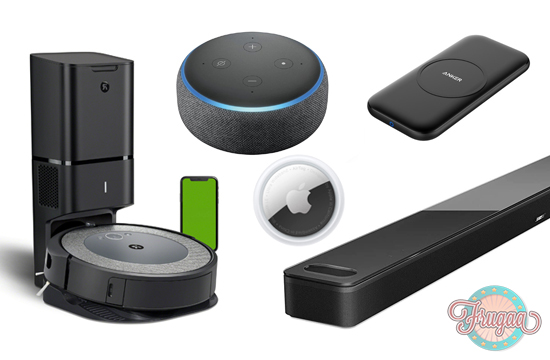 Bose Smart Soundbar 900
This Bose Smart Soundbar 900 has everything to make your audio listening experience like theater. It includes Dolby Atmos and contains nine speakers to send multi-direction sounds into the exact area of the room. It gives an unparallel experience where you can hear sound from all directions. It looks sleek with a stylish glass top & black color. You can place it on a media console or with a TV. It has built-in Google Assistance & Alexa to control & schedule everything with your voice. Its Voice4Video technology allows controlling the TV, satellite box, and cable too.
iRobot Roomba i3
If people enjoyed cleaning homes, it would not be known as boring duty. Thanks to the iRobot Roomba i3, you can automate this cleaning task and get yourself into the important work. iRobot Roomba i3 has great new tricks as compared to its older version. It can navigate to your furniture & other home products easily also, creates a digital map, and distinguishes between carpets & hard floors as well. It also empties the collected dirt inside the wall unit; such features give 60 days of hassle-free cleaning. If you have a pet, you can relate how hard it is to clean a pet's hair and dirt, but i3 makes it easy. iRobot Roomba i3 has great useful features such as you can pair it with the above-mentioned amazon echo or with Alexa to connect with it using just your voice commands. Furthermore, you can schedule time so that it won't disturb you in your rush hours.
Anker PowerWave Wireless Charging Pad
You can't optimize your life if you have different power cords for mobile, wireless buds, watch, etc. Such cords also become untangle wires in your place. So we have found the 'set it & forget it' convenience Anker PowerWave Wireless Charging Pad. It is tiny & perfect for a coffee table, work desk, or bedside nightstand. It is compatible with almost all wireless devices, from Apple to Samsung to earbuds to watches. You can order it from FastTech to grab free shipping on your purchase. The most useful feature of this Anker PowerWave Wireless Charging pad is that it can charge your device through almost all silicon phone cases up to 5 millimeters thick. So no need to remove your case whenever you want to charge your device.
Amazon Echo
If you want to optimize your daily life, you need a command hub or central intelligence that converts your command to actions. While numerous personal assistants are available in the market, Amazon Alexa is the leading one. Order Amazon Echo, and you'll receive not only intelligent tech but also the chance to open the full potential of Alexa. Alexa can set up your grocery list, schedule your evening music and dentist appointment, and even dim the lights & lock the door for you. Its most useful features are providing brief and accurate information about anything and giving news updates about the latest events, sports scores, and weather reports for the day. It is great tech to start your day and customize it according to your need.
Apple AirTag
Suppose you have a busy work schedule & have multiple things in mind. You surely don't want to spend time fetching your car keys, wallet, or other easy to lost items. So Apple introduced AirTag, which uses Ultra-Wideband technology to find the nearby iPhone(your & stranger's iPhone) to show the exact location of your AirTag. It also shows a guide and step-by-step directions to find items you have lost. AirTag also has a small speaker that you can use whenever you come closer to your lost device to fetch it immediately. Its useful feature is that you can set the given AirTag to lost mode if you cannot find your tag. You'll be notified when it enters the Find My Network virtual group created by millions of iPhones all around the world.
These are the five best smart tech products to make your life easier and stress-free so that you can focus on your important tasks.