Over the past two decades, PayPal has become hugely popular as an online payments system and is used by both businesses and individuals around the world. PayPal allows users to make and receive payments, create invoices, make bill payments or pay for purchases made online, and more. Guaranteed transaction security and safety has made this payments system even more popular. In fact, PayPal is the first provider that springs to mind when the words online payment system are used. Supporting twenty four different currencies and used in over 190 countries, there is no doubt that PayPal has made a huge impact in the world of online payment transactions.
While PayPal certainly does offer a range of benefits, it is important to weigh up the pros and cons of using PayPal for your business. You may find that the subscription fees and transaction fees are too high for you. Alternatively, you may find that your account is regularly being blocked for one reason or another, which can be a real hassle if you need to make or receive payments.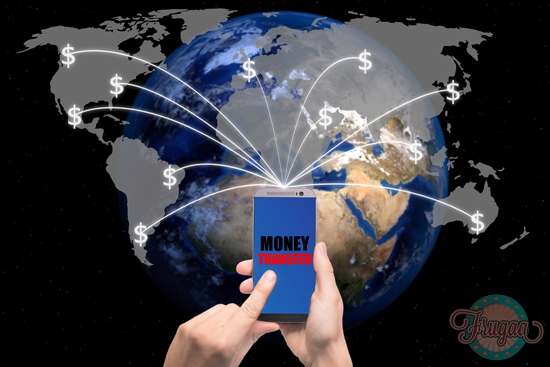 In addition, you may find that not all of your clients can use PayPal for transactions. The good news is that there are alternatives that you can consider for your business if you prefer to use a different payments system or would like to have another payments systems set up in addition to PayPal.
Some Of The Options Available
When you are looking for a new payments system to use instead of or alongside PayPal, it is important to consider a few key points. This includes checking on any subscriptions fees, looking at the transaction fees charged, checking which currencies are supported, and looking at the ease of use of the system. You can then make a more informed decision with regards to which system you should use. Some of the payment system options you can select from include:
Stripe: Since starting up, this payments facility has fast gained popularity amongst businesses. Its initial aim was to provide a payment facility for developers and with this in mind you need to be aware that advanced programming skills are required are required in order to implement and use it effectively. You can make credit and debit card transactions using this system. One key point with Stripe is that you do not need an active account to use it – all you require is a debit or credit card. In addition, although there are transaction fees as with PayPal, there are discounts available on these fees based on the transaction amount.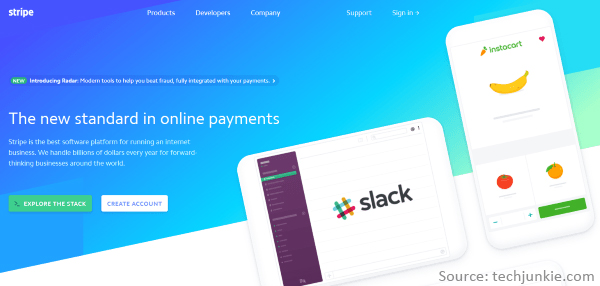 Transferwise: With a focus on international payments, this system is a great choice for businesses that have a lot of international clients. With this system you can help to reduce international transaction fees, which can be very costly with PayPal. You will be able to accept client payments from around the world and payments can be received into your bank account within 2-3 days of withdrawal. All transfers that go through Transferwise are based on real time currency exchange rates and the system is very simple and convenient to use.
Skrill: This payment system has become a popular alternative to PayPal over the years. It used to be known as Moneybookers and was established back in 2001. You can send and make transactions with ease using this payments system. Like PayPal, Skrill offers high levels of account security. The transaction fees are very competitive and businesses can benefit from a safe and fast method of making financial transactions including sending or receiving money. Many businesses around the world now use Skrill as their main online payment transaction system.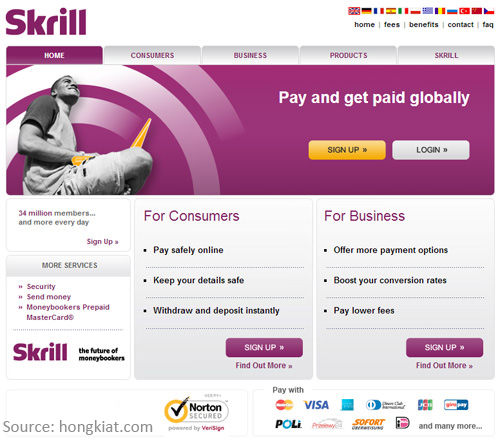 Payoneer: With a full range of features and a focus on international payments, Payoneer is ideal for businesses of all sizes. You can receive payments from clients around the globe with ease. The fast payment system means that you will receive your funds within minutes of the payment being made. You can also send money to others quickly and easily using this system including bulk payments to a number of people. You can also receive your payments in a wide range of currencies. The transactions are free for many currencies and for US dollars the fee is just 1 percent.
Google Wallet: With Google Wallet, you can benefit from a fast and simple means of receiving payments from clients and customers. In order to make a payment to you, your client won't need the Google Wallet – all that is required is your email address or telephone number. This payment system transfers your received payments to your bank account automatically, which means one less thing for you to worry about. You can use Google Wallet via the web on your desktop or you can download the app so that you can use it via your mobile device.
So, if you want to look at adding a new payment system for your business these are some of the great options that you can consider.