Your style makes you versatile. Speaks about your taste and your inhibition to stand out among the crowd. Each season is a new avenue for one to make use to the fullest and try out the newest trends doing the rounds in the world of fashion. While there are tons of options to choose from multiple brands, there are some though you ought to definitely have in your closet. In this post, we will take a look at the top 5 brands available on Frugaa.
1. Phillip Lim:
A standout amongst its peers and with a global sleuth of chains across Europe and Asia, Phillip Lim is the brand to watch out for. Offering both menswear and womenswear, footwear and accessories, patrons have a choice between a thousand of offerings in terms of style and substance. The company over the years has also wonmultiple accolades from the industry including multiple CDFA awards. With its all-season collection on display across multiple fashion capitals, Phillip Lim is a style unlike no other to choose from. Owners Phillip Lim and Wen Zhou, both pride at bringing style, versatility and functionality to your looks.
2. Superdry:
Superdry is a concept that emerged in 2003 that looked to fuse American and Japanese graphics with a British style. What began as an experimental project is now today a global brand. As of date, Superdry owns more than 240 plus stores across Europe and more than 400 franchises all over the globe. With celebrities' endorsing the brand and a popular young following, Superdry has established itself as a must have thing in your wardrobe. Be it their funky designs, styles and a wide range to choose from, you can be sure to be the envy of friends and colleagues alike in a Superdry ensemble.
3. St Croix:
St Croix is a luxury fashion store aimed specifically for men providing high quality apparels and accessories. The company is known for its individually handcrafted materials which it makes sure of is always made in limited quantities as opposed to high volumes by other major brands. This is to ensure uniformity and to offer a fresh choices and style every season. St. Croix makes use of some of the best natural materials known to mankind in its designs, the likes of which include Mongolian Cashmere, Tasmanian Lambswool, Giza cotton to name a few. You know you are going to be donning a lap of luxury every time you wear a St Croix.
4. Loralette by Avenue:
Loralette has been a vocal brand with a focus specifically on plus size clothing. Finding plus size fashion options is something that many women still struggle with. Most often than not, there are brands conscious with slim size options for women and doesn't majorly cater to the plus sized market. This is where Loralette wishes to bring about a change. With thousands of options to choose ranging from tops, skirts, sleepwear, lingerie and fashion accessories. Most of the apparel for Loralette is available ontheir online store with select Avenue stores also keeping the stock at location. One has a range of style options to choose from these offerings depending on their personal styles, aesthetics as well as demographics. If you are out looking for fancy and flattering prints this season, the Loralette has a whole new wide range of dresses on offer. Up your fashion game and also get discounts of up to 40% on all your purchases.
5. Steve Madden:
Doesn't matter if you are fashionista or someone just keeping up with trends, Steve Madden is a name that's hard to ignore. Founded in 1970, Steve Madden is synonymous today with everything Fashion. As of date, their offerings cater to all segments including men, women and children as well. With more than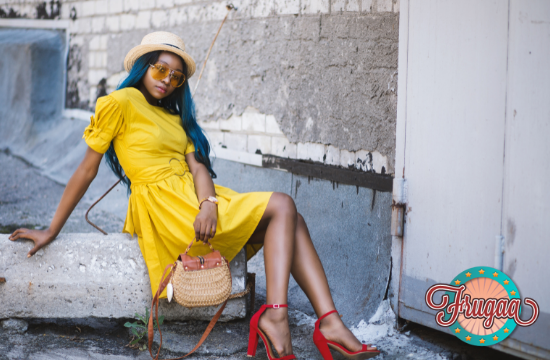 3 decades under its belt, the company has its presence in more than 80 countries worldwide and shows no signs of slowing down. The brand as of date makes everything from shoes, handbags, belts, jewelry and hosiery even. This means you will never run out of options buying at Steve Madden.
If its luxury footwear you are seeking, Steve Madden is where you ought to be looking.
Shoes are an accessory that can make or break you. If you are out looking for the latest styles, then visit the website and take home your favorite pair today.
So, there you have a list of the top 5 brands that you can shop on Frugaa. What's more, you can even avail amazing discounts through the website. There are daily and weekly deals to look out for that you will love. All for the love of fashion.  Subscribe today and get the best deals for yourself each season.