The ultimate sale of the shopping season comes but once a year and it just happens to be Black Friday. You may not have realized this but around 12% of Americans admit that they do their Black Friday shop completely drunk, but then again… that's probably not too much of a surprise to you considering Thanksgiving is a day of indulgence and the sales kick off at midnight. Of course, this may also explain why the presents you open on Christmas Day are sub-par.
There is plenty to love about the holiday season and Black Friday may have kicked off in the 60s but it's only really grown in mainstream popularity in the last couple of decades, with it now being a worldwide phenomenon. That's right, we've spread the insanity!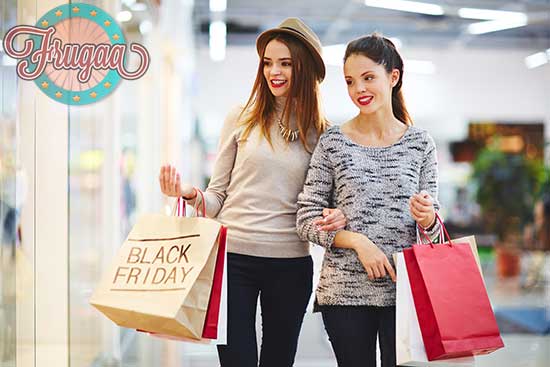 Black Friday always falls on the Friday after Thanksgiving. While the date of Thanksgiving may change, it always falls on November's fourth Thursday.
The origin story of the term Black Friday falls to the 50s where it first got its start. It was in Philadelphia and the local police used the term Black Friday to describe the insanity that descended on the city the day after Thanksgiving. Shoppers, locals, and tourists would flood into the city ahead of the major football game that is always held on the Saturday after Thanksgiving. Which game is that? Army-Navy, of course!
Really, it marks the beginning of the Christmas shopping season. Some organized shoppers may have all their shopping done by this time of year, others might get it totally done in Black Friday sales, while others wait till Cyber Monday (or Christmas Eve).
The reason that Black Friday started being used to describe this shopping day is said to represent the point in time when retailers were actually making a profit. Thus, this one day allowed their balance to move from being in the red to being back to black.

There is a lot of hype and excitement around what is basically a national holiday in its own right. However, it's not all sunshine and candy canes. There has been a multitude of injuries, and even deaths, throughout the US. Big stores now employ security to manage the lines that can stretch for what seems like miles.
While the United Kingdom does now have its own Black Friday sales the term was originally used by the National Health Service and Police to describe the Friday prior to Christmas. The Brits do enjoy a drink and with an influx of people going out to enjoy the holiday season, the police and NHS are under pressure with those who overdo it, and of course, the inevitable violence that comes from large groups of intoxicated people.
Mexico also celebrates its own version of Black Friday. It is known as El Buen Fin and is a full weekend of incredible shopping discounts. The term means good weekend and for shoppers, it certainly is.

In the early days of this holiday, the stores would open bright and early to allow shoppers time to get their goods. However, now many of the major outlets will open at midnight and by the typical opening time the major bargains are already sold out. There are also stores that open in the early evening on Thanksgiving.
Between online shopping on Thanksgiving Day and Black Friday, the US is thought to have spent almost $6 billion.
While the deal is meant to be just for one day many retailers extend the bargains for the full weekend and online stores (particularly Amazon) launch Cyber Monday.
One of the major buys come Black Friday is technology, from games consoles to new television sets. There is nothing better than getting a new gadget unless of course, it's a cut-price bargain! Some deals seem too good to be true which often means the kids get amazing Christmas presents they would never have expected before. It's a once a year chance to get the latest tech for such low prices so be prepared to head out early if you want to get the best products. Or, stick to the online flash sales. Many online retailers start their sales on Thanksgiving Day and will launch new bargains hourly which offers you a greater chance of grabbing a deal throughout the day, especially when you can't get to the stores because you're stuck at work and have no chance of getting there in time. With all that new tech, you'll want to make sure you're fully insured with TechInsurance.com.
Just remember as you head to the stores, countless retail employees have invested hard work and family time into preparing an awesome sale for you to enjoy – so try not to give them too much of a hard time if someone beats you to the last media player.