Memorial Day, originally known as decoration day, is coming up, and its importance is way more than just a holiday. It is celebrated in the US by remembering those who died while serving the US armed forces. Formally it was celebrated on 30th May (from 1868 to 1970), but now the last Monday of May month. Everyone in the United States reflects & shows their respect to those who sacrifice their life to defend the country's freedom.
As of the last week of May, it's the unofficial beginning of summer because the temperature starts to heat up. You can go outside with family & kids to celebrate memorial day & enjoy the holiday but make sure to stay hydrated & use sunscreen. So here we have listed a few activity ideas that you can perform with your kids & seniors on the occasion of memorial day.
Flag Raising
A powerful way to show your patriotism is to remember the sacrifice of the brave army because they gave their lives to save the country. The perfect thing you can do to show your feelings for them on a memorial day is to attend the flag-raising ceremony in your local area or plan to perform one with your neighbors. Remember that your flag must be flown at half-staff before noon and then raised to top staff in the air until sunset. You can attend the ceremony by wearing the American flag shirts, hats, or other apparel available at The Flag Shirt.
Purchase From Veteran-Owned Business
If you are planning to shop or eat somewhere with your family, you must visit the shops owned or operated by military families or veterans. Make sure you first check online for all the veterans owned shops that provide from hardware to fine dining. This is the perfect way to help them and their families.
Moment Of Silence
You can gather in the public spaces with your neighbors for the national moment of remembrance. At 3 pm, stand together to show unity. You can give a small tribute by simply playing 'military taps'.
Visit Soldier Cemetery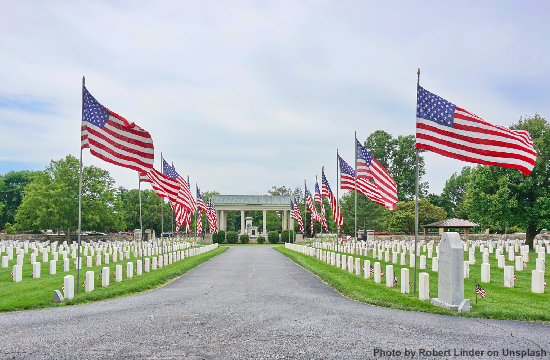 Memorial Day was known as decoration day because families of fallen soldiers visit the cemetery and decorate their graves on this day. If you are interested in contributing to memorial day, then book a bus for the soldier's families and take them to the nearest cemetery or military landmarks. Using Zipcar, you can instantly book cars near you on an hourly or daily basis.
Watch Memorial Day Concert
Every year PBS hosts the memorial day concert on Sunday, one night before memorial day. This year the concert will be broadcast on the PBS website on Sunday, 29th May 2022, at 8 pm. You can book seats for various memorial day festivals & concerts from TicketNetwork to get a confirmed place.
Craft Memorial Day Poppy
Usually, people wear red poppies as a symbol of remembrance on a memorial day. Fun fact the early Friday of memorials day is known as the national poppy day. You can easily purchase happy pins from stores and necessary products to make your poppy with tissue only at home.
Donate To Military Causes
As it's a holiday, we know you have already planned all the weekend getaways with your kids and families, but it's great to save some time and money. Because you can use that time to search for the military organizations or non-profit organizations that need donations for keeping their work going and donate saved money to them. You can even select the appropriate cause to which you wish to donate, such as wounded soldiers, veterans with PTSD, grieving families, etc.
Write Letter To Soldiers
This activity is for your kids to teach them the importance of memorial day because, for them, it's just another week off from study. So remind them of the value of the memorial day, and ask them to write letters for active American soldiers or veterans. Once they write the letter, take them to the drop-off location to make sure the letter reaches the fast and safe. It is very good for kids to know about their older generation's sacrifices to make the country safe to live in.
Draw Patriotic Chalk Art
You can gather your friends or the neighbors' kids and draw the patriotic inspired drawing using chalk or simply write a thank you to the local veterans. Even though it's not a big deal, the small contribution or appreciation matters more than nothing.
Post On Social Media
The easiest thing you can do to give tribute to our heroes is simply posting the patriotic image on social media with a caption or quotes that will thank their efforts and the sacrifice they made for the country.
These are the ten activities you can perform on a memorial day to remember our brave soldier's sacrifice for your nation.