Trekking is an endeavor that can be done regardless of the seasons, and there as such remains no perfect time to plan for one. Packing for a trekking adventure though is something that both beginners, as well as seasoned trekkers, face. From packing too much to forgetting essentials, one can never be truly prepared for a trek. A minor detail here, a significant thing there and you can end up being overloaded or forgetting necessities even. In this post, we have jotted down a list of essentials that are a must for every trekking trip:
1. Clothing:
The first and foremost thing one should and ought to worry about on every trekking trip even if it's as small as a one-day trek or a week-long one. Weather is a premise that can't ever be controlled so you need to be the one that's prepared for any unforeseen situation. It might be a sunny day whilst you start off one and within hours, the heavens could be pouring down on you. Or maybe you just packed light thinking it to be a sunny affair and the temperatures drop down to a ridiculous low. Be what may, packing the right clothing can make all the difference on your trip. So, ensure that you take a gauge of the weather before making your move and always carry an extra set of clothing. Pullovers and windcheaters are great for windy conditions while a set of rainwear can pull off as an extra layer for when the weather takes a turn for the worst. Whatever you choose to pack, ensure you have a backup ready.
 2. Sun protection:
Another aspect commonly ignored by trekkers is sun protection, and we don't just mean carrying a sunscreen for your trek ahead. The last thing you want is a sunburn or snow blindness while you are out on your trek. Carrying sun protection can help you deal with problems such as premature aging, cataracts, and even skin cancer. Ensure you carry along with you some quality sunglasses to protect your eyes from UV radiation. For snowy conditions, there are extra-dark glacier glasses available in the market. Sunscreen or sunblock is another essential that can help with exposure to UV. An SPF 30 sunblock is recommended if you are indulging in any outdoor activity. Looking to get all your trekking products in one place? Then head to Golf Galaxy and get 20% off on tour trek products.
 3. First Aid:
A first aid kit is another essential that you always should have in your trekking arsenal. You need not head out in the market picking out bits and pieces for that. Various pre-assembled first aid kits serve individual kits. A standard first aid kit should include basics like gauzes, adhesive bandages, disinfectant spray or ointments. The kit can also include over the counter medications, in case of need or emergencies of any sort. Make sure you don't overdo on the kit and carry things as per the duration of your trip.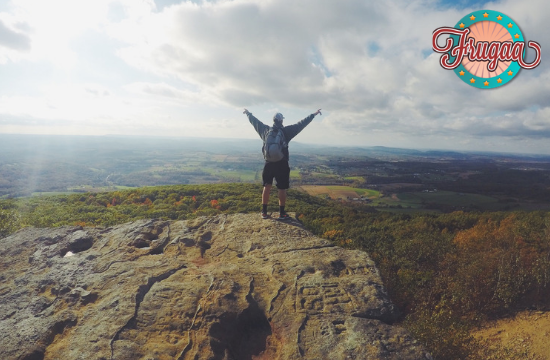 4. Navigation:
Navigation is an essential part of any trekkers kit, and this should not be limited to just your smartphone. If you are traveling to new regions, make sure to carry a map of the local area, a compass, a GPS device, or altimeter watches. It is too easy at times to stray down the wrong path. Having navigation tools at your disposal will definitely come to your aid if you are stranded or lost in a new place. When it comes to maps, learning a read, a topo map can do wonders, and you can learn to do that easily. Same goes for compass and Personal Locator Beacon(PLB).
 5. Torch or headlamps or flashlights:
Many times, trekkers ignore to pack one for their trek. Losing your way to taking a detour to your destination and back can take hours, and you really don't want to be stranded in a place where you can't see ahead of yourselves. A headlamp and torch is a must-have for all occasions and also to avoid accidents of any kind while making your way in the dark. How about getting yourself a sturdy trekking bag to keep all your things? Get up to $26 off on the UA Storm Recruit Backpack via Frugaa.
 6. Emergency provisions:
Emergency provisions include extra food and water. You need not really pack yourself a two-course meal or a full-fledged lunch like a picnic. Bring along small snacks or bars that can be easily carried in your backpacks or pockets When it comes to carrying water, two liters a day suffices a normal individual, but there are also other factors to consider here including the duration and intensity of the trek you have planned.
So, there we have the 6 essential things that every trekker should have in their backpack while heading out on a trek. Happy trails.