Windy City Novelties Coupons & Promo Codes 2021
Windy City Novelties is an online party retailer for every event. They provide free shipping on various products including party supplies, glow products, glow sticks, glow necklaces, and other glow novelties for all occasions. Choose over 16,000 unique items to add life to any occasion.



---
Exclusive Windy City Novelties Deal: Free Shipping Above $39+ Orders .
Code:



---
Hot Windy City Novelties Discount: As Low As $0.17 for Sunglasses .
Code:



---
Promotional Windy City Novelties coupon code: 20% Off Sitewide on Order of $99+ .
Code:
About Windy City Novelties
Parties mean to be organized for a special celebration to share joy and happiness among friends or family. Party planning is a challenging task and most people fail to find a suitable theme that would be able to lift the party spirit aptly. Choices and tastes vary among different age groups and that is where Windy City Novelties comes to your rescue.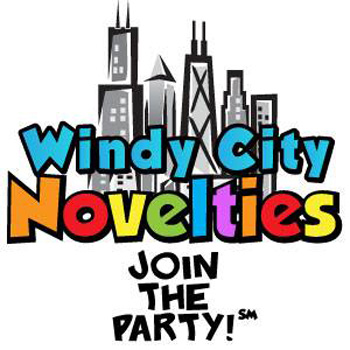 The company has been functioning since 1983 and bringing joy to the million of faces. It is the number one supplier of party products as well as they assist you to select suitable party theme, invitation cards, gifts and fitting customized decorations and many more within your set budget by arranging the perfect items in the possible lowest price. There are over 17000 products to choose from and new products are being lined up per week to make your party the talk of the town.
Product Details
Windy City Novelties offers the best amazing party products, which will add the extra glitter that you are looking for. All the products are segmented into different categories and each category is having multi sub-categories to let you pick the product you actually want.
Party Supplies : Party Decorations, Party favors for kids, Inflatable-Party-Supplies, Party-Wearable, Custom Banners, Tableware, Noisemakers, Balloons and accessories.
Events & Celebrations : Theme Party Supplies, Holiday party supplies, Birthday supplies, Special occasion supplies.
Glow-products : Glow-sticks, Glow Jewelry, Glow paint, Glow-drink ware, Glow wands and weapons, Glow accessories.
LED : Jewelry, Drink ware, Sunglass, Apparel, Foam-sticks, Head ware, Toys and gifts, Accessories, Party supplies.
Night-golf : Light up golf balls, Tournament package, Players gears, Glow golf cart accessories, Course makers.
Costumes : Costume accessories, Kids-costume, Adult costume, Teen costume, Pet costume, Costume-accessories.
Novelties & Toys: Variety of toys, Stationary stickers, Vending, Awards, Candy, Games, Flags.
New Products: Windycitynovelties.com adds exciting products every week.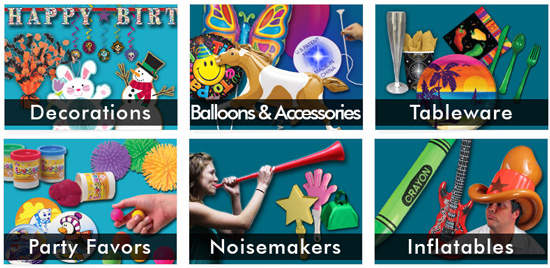 Shop by Colors/ Color & Pattern : Select glow products according to the selection of color from- White, Blue, Red, Purple, Green, Pink, Orange, Yellow. Pick the appropriate party-supplies categorized into color & pattern.
Shop by Theme: Windycitynovelties.com lets you shop the costumes & accessories as per the themes- Animal & Bug, Biblical, Clown, Decade, Disney, Historical, Inflatable and many more.
Top Products :
Christmas products - Starts from $0.60.
New year's products - $0.99!
Birthday party products - Decorations(from $0.85), Kids Birthday theme (from $0.62), Milestone birthdays.
Glow products - Sticks, Jewelry, Retail glow, paint.
LED - Toys & Gifts, Foam-sticks, Apparel, Sunglasses.
Hat & Headgears - starts from $1.20.
Hanukkah - Starts from $0.55.
Customization Facilities
Windy City Novelties allows you to imprint names or messages over variety of special items to make them suitable to the special occasion.
Party Invitations : Change-of-address,  Birthday, Holiday, Kids-party, Photo, Special-event, Theme-party.
Custom Imprint Items : Bar-ware, Balloons, Glow-products, Hats, Key-chains, LED, Medallions, Noisemakers, Sunglasses, Novelties.
Banners : Awareness-Banners, Birthday, Business, Photo-banners, Holiday-party, Custom-event-banners, Theme-party, Special event, Spanish- Custom banners.
Use the latest eInvite.com coupons and shop for best-selling invitation for all of life's most cherished occasions with previewing your invitation in real time, prior to purchasing.
Mind-Blowing Deals
Windy City Novelties guarantees 120% lowest price.
Enjoy free shipping on orders over $69.
Get special discounts on more than 90 products in clearance.
Shop for Clearance items.
Use Coupon Codes For Extra Savings
At this point, you must be estimating the cost of organizing your much-desired customized party. Keep aside your tension and stop biting nail. Plenty of coupon codes are there at your service. While purchasing during checkout use them to get hefty discounts. Some examples -
Get 50% off on LED Pink Crown Bracelet.
Receive 15% off on shopping 100$ or over and get free shipping.
Save 20$on buying products of 100$ or more and receive free shipping.
Avail free shipping along with 30$ discounts on buying items of 200$ or more.
Get 10% off on entire curt item and avail free shipping on purchasing items of 69$.

How to Use Coupon Codes
Add the qualified product to the cart.
Go to the cart to check order details.
On that very page there is a place to enter the code.
Put the qualified quote to start saving.
Proceed further for payment and shipping options.
Complete the transaction.
Light up your next party with our Assorted Colour Supreme Glow Mega Party Pack! To get some exciting ideas, stay tuned with Windy City Novelties YouTube channel. The video given here speaks about the assorted colour glow party pack that brings in the perfect atmosphere for your little ones birthday party.
Customer Service
Shipping : Usually, the shipping of non-imprinted product does not take more than 5 days. WindyCityNovelties.com sakes hand with UPS, Fed-Ex and USPS to deliver your products. You can enjoy various expedited shipping by placing nominal charges. These classification would differentiate the processing days and ready to ship- High Priority, UPS-orange(3days), UPS-blue(2days), UPS-Red-Standard(Next-day-afternoon), UPS-Red-Expedited (next-day-A.M.).
Return & Refund : You are free to return the item, if it is unable to meet your satisfaction. You have to return the product within 30 days of purchase. Windy City Novelties will deduct 25% restocking fee, original shipping charge and return shipping charge.
Party Ideas : Windycitynovelties.com arranges number of party ideas to ease your task for hosting the next theme-party. You just have to click on the appropriate category to get the ideas from- Birthday party ideas, Themed party ideas, Special occasion party ideas, Holiday party ideas. PartyBell.com also provides plenty of such products and offers, check out now.
Social Media Links
Contact Details
Windy City Novelties, Inc.
300 Lakeview Pkwy.
Vernon Hills, IL 60061
Ph. 1-800-442-9722