About Shoes For Crews
Shoes For Crews provides safe shoes for those who value comfort and safety for their footwear. The company has been providing slip-resistant footwear to its clients in industries, hospitality, healthcare and foodservice for over 30 years.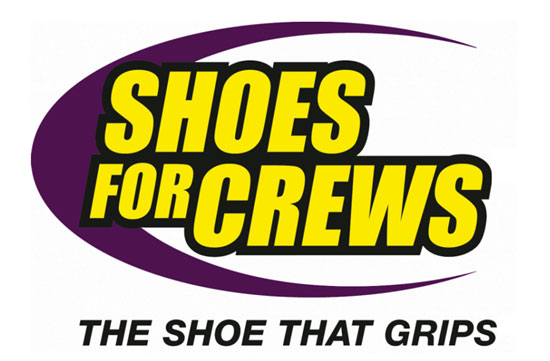 Each pair of shoes is the product of careful research, design and engineering by experts in the company. What comes out after this labor of love is footwear that is stylish yet very comfortable. All products come with Shoes For Crews and are available at a very affordable price for its clients.
Choose From A Wide Range Of Products
Shoes For Crews spoils its customers for choice and has more than 100 styles to offer to its global clientele. So many choices ensures customers get all they want under one roof at a very good price as all shoes are designed and manufactured in house.
International Reach
Shoes For Crews has established its distribution centers in the United States, Canada and Ireland.
Watch Out For Top Categories!
Women's Slip-Resistant Shoes: Visit the website to buy shoes for women including work shoes, work boots, clogs and athletics. Few popular shoes are Genna, Freestyle, Swift, Aurora, Vitality, Energy and Falcon.
Men's Slip-Resistant Shoes: Shoes For Crews boasts a wide variety of shoes for men including work shoes, men's non- slip work boots and dress shoes. Few popular choices available at the website are Cambridge, Freestyle, Alto, Cabbie, Evolution, Predator, Kick, Force and Rome.
Shop By Category:
Women's Footwear is available in the following category:-
Athletic
Casual
Clogs
Dress
Work Boots
New Styles
Wide Shoes
Men's Footwear is available in the following category:-
Athletic
Casual
Clogs
Dress
Work Boots

Exclusive Deals
Free shipping for $7.98/pair
35% off Rome men shoes with removable cushioned soles
EnduraMax dress and casual insoles @ $9.98
Save 36% on Genna women shoes with padded collar
How To Order
You can order shoes at the website in four easy steps. Call the toll free number at 1-800-523-4448, Fax the print order form at 1-888-647-4637, Mail the print order form and order online in step by step method.
Once you log into your account, the website will ask you to choose products and add to the cart. Enter the key code when prompted and proceed to check out. Select a shipping method, verify the billing address and enter the credit card information. Review the order and confirm when you are sure of the details. Your order is now confirmed and will be shipped in few days to the address mentioned in the order form.
Shoes For Crews offers great advertisement about numerous of its products as well as services. Put a glance on this video where retailer has perfected the ultimate slip-resistant outsole so you can work safely and comfortably.
Gift Cards
Shoe For Crews allows your friends to save $10 via a form that can be emailed to as many addresses you want. This promotion email describes the benefits of wearing shoes manufactured by this company. If your friend decides to buy a pair of shoes after seeing this promotion email he gets a $10 discount on his first purchase.
You also get a $10 discount on your next purchase if your friend buys a pair of shoes with your offer code. This promotion offer can be used through the company's website.
Shipping Policy
Shoe For Crew promises delivery within 3 business days for commercial and business address. It does not charge its customers if the delivery takes more than 72 hours. These three days shipping is valid within the contiguous 48 United States. All orders placed before 3:00pm EST / 12:00pm PST are processed and shipped to the client on the same day.
The company takes 3-5 business days to deliver orders at residential address. Delivery for these orders is done by UPS/USPS and all orders are typically shipped same day or the next business day. You can expect to receive your parcel the very next day you order if the information is processed by 3:00pm EST / 12:00pm PST.
For international orders customers are advised to call the U.S. office at 800-523-4448 to find if products are shipped in that country. Visit shoesforcrews.ca to ship an order to Canada, and sfceurope.com to ship an order to Europe. Crocs and Ugg Australia also provides similar deals with great discount on your purchase.
Return Policy
Shoes For Crews allows its customers to use their shoes for 2 months and takes them back if product fails to satisfy the user. Customers have a choice to either exchange their shoes for free or return them without giving any explanations.
Returns and exchanges are easy and all you have to do is to fill up a return and exchange form. Prepare a package after this and locate the UPS return shipping level that is located inside the boss. Drop this box at UPS or a Pack n Ship store near you.
Shoes For Crews on Social Media
Contact Shoes For Crews
Shoes For Crews
250 S Australian Ave
West Palm Beach
FL 33401

Customer Care: 1-800-523-4448
Contact form available on website.