Quill Coupons & Promo Codes 2023
Use our exclusive Quill coupons & discount codes and save an average of $20 on your entire order. Quill provides over 65000 office supplies which includes office furniture, paper, ink and toner along with free shipping on all orders. Please note that All HP, Epson, and Samsung products are excluded from coupons, discounts, and cash back offers.
Quill:

41

Unreliable Coupons Found



---
Hot Discount: $15 off When You Spend $75 on Ink and Toner. .
Code:



---
$15 off When You Spend $75 on Cleaning and Janitorial Supplies.
Code:



---
New Quill free shipping offer: $15 off When You Spend $75 on Snacks, Beverages and Foodservice Supplies. .
Code:



---
$10 off When You Spend $60 on Pens, Pencils and Markers.
Code:



---
Hot Quill Discount: $10 off When You Spend $100 on Furniture. .
Code:



---
Hot Discount: $10 off When You Spend $75 on Office Decor. .
Code:



---
Hot Discount: $10 off $45+ Kleenex Brand Products. .
Code:



---
$10 off When You Spend $60 on Quill Brand Storage Boxes and Drawers.
Code:



---
Free Snapware 10-piece Storage Set with $175 order.
Code:



---
Free M&M's candy and Snyders mini pretzels when you spend $185.
Code:



---
Free Popcorn Factory Summer Bucket with Treats When You Spend $175.
Code:
About Quill
Quill Corporation is an office supply online retail chain that is a subsidiary of Staples Inc. Quill sells office supplies and products that cater to professionals in an office or home office setting. The company's focus is to offer significant discount prices that keep their customers coming back for more. Founded in 1956, Quills has become a major online presence, conducting over 70% of their business online. They carry major brands like HP, Apple, Epson, and Scotch and provide consumers with products and services in office supplies, furniture and décor, and electronics.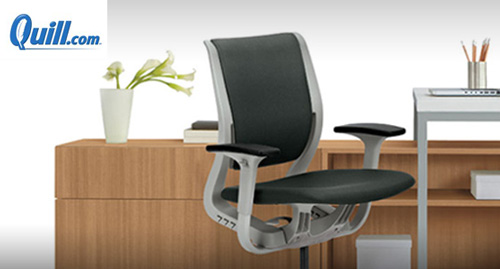 Quill Products
Office Supplies – Pens, Pencils, Markers, Filing folders, Envelopes, Post-its, Labels, Tapes and adhesives, Legal pads, Correction supplies, Scissors and trimmers, Staplers, Clips and tacks, Rubber bands, Partition folders and filing pockets, Storage and organization, Desk accessories, Binders, Calendars, Planners.
Office Furniture & Decor – Chairs, Desks, Doormats, Bookcases, Filing cabinets, Tables, Carts and stands, Presentation supplies, Storage cabinets, Shelving, Tables, Trash cans, Lamps, Office accessories, School furniture, Home furnishings, Patio furniture.
Electronics – Laser printers, Inkjet printers, Wide format printers, Scanners, Desktops, Laptops, Binding equipment, Shredders, Label makers, Lamination machines, Copier and fax machines, Projectors.
Irresistible Offers
1. $20 OFF FOR NEW CUSTOMERS – Immediately upon visiting Quill.com, new customers can redeem a $20 coupon for shopping at their store.
2. $20 OFF PAPER PRODUCTS – Act now and take advantage of a whopping $20 off any paper towel or bath tissue products with code: CJ6DLR85.
3. FREE VISA AWARD CARD – With purchases of furniture and chair holiday purchases. Depending on how much you spend will depend on how much you receive in awards. Use the coupon codes below:
FN4GFT49 - $25 in Visa Awards when $250 is spent in furniture or chairs.
FN6GFT86 - $50 in Visa Awards when $350 is spent in furniture, décor, and boards.
FN2GFT89 - $100 in Visa Awards when $700 is spent in furniture, décor, and boards.

4. $200 OFF TOSHIBA LAPTOP & ADDITIONAL 15% OFF – When you purchase a Toshiba Satellite S55-B5280 15.6" Laptop Computer, you receive $200 off the original price. To create a bundle deal, purchase computer accessories for 15% off.
5. UP TO $200 OFF SELECT PRINTERS – A great printer sale is happening at Quill.com, customers receive discounts on all name brand computers, with savings as high as $200.

Coupon Redemption
Using coupons on Quill has never been easier! With hundreds of coupons available right now at their online store, Quill provides easily accessible coupon codes to apply to your order at checkout. Simply copy and paste the code from the discounts you want to use, and "apply" your discount, allowing savings to begin. For more similar money savings deals check out at Concord Supplies.
Quill offers great advertisements about numerous of its products as well as services. You can put a glance at its YouTube channel. Check out this video to know about the launch of new Quill.com brand.
Top Categories & Brands
Quill Online offers a vast array of supplies in various product areas. Everything from office supplies, office and home décor and furniture, electronics, cleaning supplies, food services, coffee and office snack products, and ink and toner.
Check out this list of major brands carried by Quill Corporation. This is not a complete list, but represents many of their great products and services:
Scotch
Elmers
Swingline
Post It
Boss Office Supplies
Fire King
Quill Brand
Hon
Canon
Epson
Brother
HP

Gift Cards & Memberships
QuillCash – QuillCash is the credit membership where shoppers can earn awards that turn into money spent on Quill merchandise. Coupon redemption and recycling old printer cartridges can contribute toward earned QuillCash!
Gift Cards – Like all retailers, Quill understands the important of gift giving and allowing your friends and family to choose their own items! Gift cards are available in a number of different denominations.
Shipping Details
Quill understands convenience and cost, that's why they offer super fast 2-day shipping that is free if shoppers spend a minimum of $25 on their order. The company mails to all 50 United States and U.S. territories.
Social Media Presence
Like any modern company, the management and marketing teams at Quill Corporation understand the need and importance of social media connections to their customers. That's why the company runs Twitter, Google+, Facebook and LinkedIn accounts to keep shoppers up to date on the latest information.
Contact Info
Whether through email, fax, phone, or mail, Quill's customer service team encourages customers to reach out with questions or concerns regarding orders or products. Through their customer service tab on their official website, shoppers can talk online to a representative or send an email through their system. Here are the other contact methods for Quill:
For Mail Orders:
Quill.com
P.O. Box 94080
Palatine, IL 60094-4080
Payment Mailing Address:
Quill Corporation
P.O. Box 37600
Philadelphia, PA 19101-0600

Phone: 800-982-3400
Fax: 800-789-8955