It was all going well at the party, until a long howl from the near vicinity broke the amusement and a sudden shriek from the basement floor created chaos in the gathering. Nobody could make out the real culprit as ghostly masks hid the faces of the attendees. Well, anybody can play a prank like this to make the Halloween season a bit more Halloween-ey. But, the approach should be a bit subtler when it comes to creating themes for an all-kids Halloween party.
Even though the seriousness of the festival might not be as intense within our younger generations than it is in the teens and post-teens, but that doesn't mean we leave our kids at home with a bag of popcorn and a comedy show running on the TV. To make Halloween an equally enjoyable season for the kids, we list down some of the most creative themes that can be put to reality with ease.
Theme 1 – The Very First Step
An invitation card at your doorstep? There is hardly anything else that can set the mood upright among the masses than receiving a Halloween themed invitation card. This one should get the kids beaming with excitement as they begin their preparations for the Halloween party. There is a lot that can be thought of while preparing the perfect Halloween card. The front page can have a common theme for all or if you really want people to get in the groove then you can have custom made front page based on the likes of the individual it is being sent to.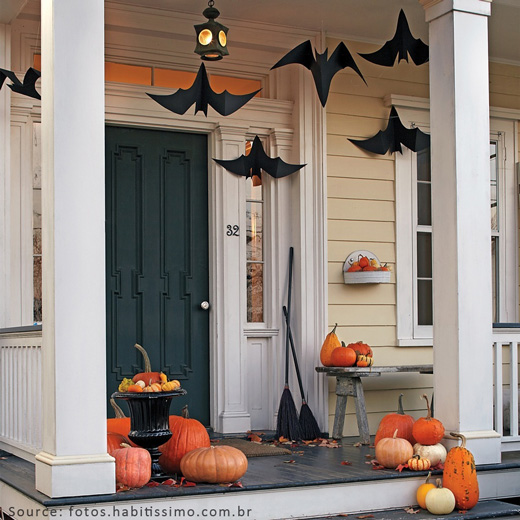 Theme 2 – Decorating The Main Gate
The invites have been sent and the guests are on their way. What reaction would you want to see on their faces as they get off their cars? Well, how about you let your main door greet the kids before you do? Decorate your front door in a spooky theme to attract eye balls even before the party begins. You can even take the help of the early comers to get this done.
Theme 3 – Some Ghosts Taste Good
Because, why not? Kids in their tender age tend to believe that ghosts and monsters are for real and it takes a hell lot of effort from us as parents to remove this misconception. So how about you prepare some ghost themed cookies & cupcakes, asking your kids and their young brigade to eat away all their fear once and for all? On a sweeter note, there can be nothing better than celebrating a birthday on Halloween as Bake My Wish is giving away attractive discounts on birthday cakes and other confectionery items. Shipping included!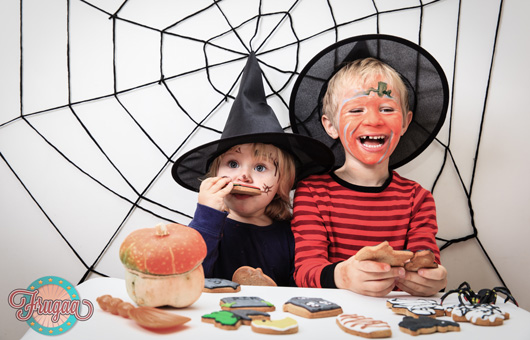 Theme 4 – Get Them Busy In Treat Preps
While we are discussing the menu for the party, how about we get the kids busy in doing something fruitful rather than bringing down the house with their fun and notoriety? Spread the food items on a mat in the middle of the living room (or whichever area is the most spacious) and arrange the kids in a circular formation around it. Instruct the kids to prepare packages with these goodies and announce that the winner gets to take more treat bags than the others!
Theme 5 – Witch Party Theme
Choose the 'witch theme' for your party by decorating your lawn in an eerie fashion. You can even plan a broom-riding race and a lot of other activities attributed to witches. Sorcerer's spells on a large bowl of fake witch soup (green preferably) or a glowing orb to perform a short act. We are sure you've already come up with your own ideas with the witch theme in mind.
Theme 6 – Halloween Costume Competition
The festival is incomplete without adorning the spookiest costumes. You can either ask the kids to stick to a specific ghost character and see who comes out with the best attire for that character or you can remove the specifics and keep the dress-code to be generic. The latter way of organizing this competition might give your house a feel from the movie Hotel Transylvania.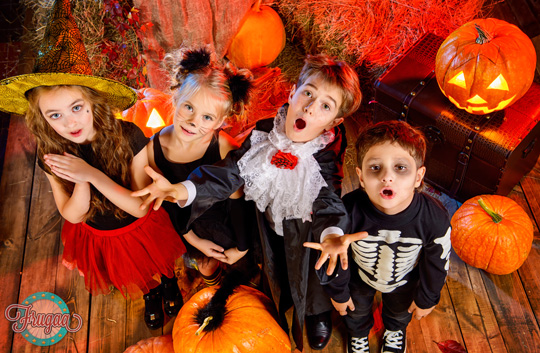 Theme 7 – Tips From Harry Potter
One thing that has captured our attention the most from the magical series is its mind-blowing architecture. Each room in this epic series was designed to portray a particular theme and we dare say they've not done justice to any portion of it. We can take inspiration from Harry Potter to adorn our house with towering structures that can be placed in our lawn and inside the party hall. Remember the platform nine and three quarters at King's Cross Station? Constructing the main entrance with that theme would give the kids an actual Harry Potter feel right from the word go! You can even gift the kids with Harry Potter themed trains by Trainz.com.
Theme 8 – Haunted House
Even the adults would take their steps carefully with this theme. You can turn your house into a haunted one by hiring ghost en-actors and hiding them at different sections of your house. To give it a more realistic feel, you can even play an eerie tune on your stereo system. With shrieks and screams echoing from different corners of your house, this Halloween party is bound to be remembered for years to come.
Theme 9 – Pumpkin Carving Party
If it's getting all too spooky, then we've got a fun-filled idea for you. Place a large mat in your lawn and spread all the pumpkins you've got over the mat. Gather the kids around the mat and instruct each one of them to carve the pumpkin in the most creative style they can. As the evening gets dark, light up all the pumpkins and get your Halloween party started with an all-pumpkin theme!
Theme 10 – Hallo-Sweet Land
You just can't conclude your kid's Halloween party without blessing them with tons of sweets, candies and confectioneries. Create a temporary dam out of waste unused cardboard/polystyrene and hide these delicacies behind it. Ring a bell and gather the kids close to this sweet surprise and ask the strongest of them to break the dam. Let the kids make a rush as they watch the sweets flood the lawn!