We know you're all set to fire up barbeque & ready to eat tasty hot dogs, burgers & salad on the 4th of July. But take a moment and go through our blog to learn the amazing facts about America & 4th July holiday. We have listed lots of facts that you can share with your friends & family. By sharing facts, you'll automatically impress them with your historical knowledge. Kids especially love to learn facts about things as they find it fascinating. Did you know that America's Independence Day was once celebrated on 5th July, not on 4th July? Yes, you read it, write! In this blog, you'll learn such facts along with some traditions, how much Americans spend on fireworks, etc., in this blog. So instead of just spending the 4th of July performing fun activities or posting BBQ photos on Instagram, memorize some of the facts about Independence Day listed below.
Declaration of Independence Author
Thomas Jefferson was the first person who declared the independence of America. There were four others on the committee, namely Benjamin Franklin, Roger Sherman, Robert Livingston, and John Adams.
First Person who Signed the Declaration of Independence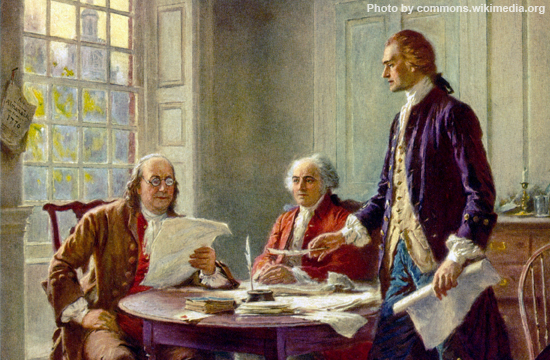 The name is John Hancock because he was the Congress President at that time. As per the National Archives, John added the signature in the middle of the document with a large hand. The phrase "put your John Hancock" is become famous because of John's signature, and most people use it instead of saying "sign your name".
On 2nd July 1776, Congress voted for independence from Great Britain. It is two days prior, but the document was dated 4th July. Until 2nd August 1776, the document was not signed by everyone.
At the time of getting independence, i.e., in July 1776, 2.5 million people were living in the nation. However, according to the United States Census, the count has become more than 331.8 million people.
The 3 presidents who signed the Declaration of Independence in 1776 died on 4th July. John Adams & Thomas Jefferson died on 4th July 1826 (the 50th anniversary of the country's independence), and James Monroe died on 4th July 1831.
Every Independence Day, the liberty bell rings 13 times to honor the 13 original states. The bell is situated in Philadelphia, Pennsylvania, and descendants of people who signed the Declaration of Independence tap the bell at 2 p.m. every 4th of July.
In 1779, independence day was celebrated on 5th July. As the holiday came on Sunday, so entire country celebrated independence day on 5th July instead of 4.
In 1777, independence day was celebrated like modern days. They set up the firework show in Philadelphia. Then bells rang to honor the 13 states of the country. After that, they had a parade ceremony and dinner for everyone. Similarly, every year in America, lots of concerts happen on the occasion of independence day, which you can enjoy with your family by booking it from TicketNetwork.
On 4th July 1778. George Washington celebrated independence day by giving a double ration of rum to U.S. soldiers and helping them.
Americans spend more than $1 billion on only the firework each year. As per the American Pyrotechnics Association, spending increases each year. The Macy's 4th of July firework show was the biggest until today, took 8000 hours to prepare.
Before the civil war, it was considered unpatriotic behavior if you kept your business open on Independence day. But as stores and restaurants started to showcase sales advertisements & merchandise in red, blue & white colors, the 4th of July sale tradition grew. So for this year's independence day, you can also grab the benefit of the 4th July sale and get the chance to buy Fine Tuxedos & formal wear accessories with up to 70% discount.
Independence day was not recognized as a federal holiday until 1870. So yes, it took 100 years to consider 4th July as the federal holiday. But after 1870, the holiday was also ranked as important as Christmas and the other few holidays.
Americans eat approximately 150 million hot dogs each independent day. The peak hot dog season is from memorial day to labor day, and Americans eat approximately 7 billion hot dogs, which means 818 per second. In July month 10% of annual hot dog sales happen. But, you can choose to be healthy by ordering fresh and organic veggies, fruits, and snacks from Farm Fresh To You.