Breakfast is the most important meal we eat after a long night's fast. The name itself says 'breaking the fast of previous nights'. So it's worth it to eat this balanced and healthy meal every day. We've listed easy healthy breakfast ideas to motivate you to get a good morning meal every day. Some of them are very quick, healthy breakfast ideas that you can prepare without spending much time. From tasty muffins, Avocado toast, and marvelous eggy breakfasts to easy smoothies & overnight oats, you can try all these healthy breakfast recipes daily.
Avocado is always known as healthy food; if there were awards in the food world for the most used healthy breakfast, then we are sure that avocado toast might win the competition. Once upon a time in America, the avocado was just the food trend, but now it has become all Americans' mainstream healthy breakfast or brunch food. It just requires a few ingredients like avocado, toasted bread, and perfect poached egg; that's it.
Peanut Banana Cinnamon Smoothie
Smoothies are the best way to begin your day. This peanut banana smoothie can become the best healthy breakfast idea for kids as they don't like to eat in the morning. So smoothies could be the tasty and easy-to-drink solution for your kids and other family members. It includes the flavor combination of peanut butter and bananas, and cinnamon adds a little spice which brightens the whole drink.
If you are looking for a complete morning meal without adding anything extra, overnight oats are the best choice. Roll the oats, add milk and a few tasty ingredients, and put it inside the refrigerator for the entire night. Oats will become soft and creamy; then add the nuts, and chia seeds, which have various health benefits such as omega-3s. Finally, you can take the maple syrup, cinnamon, and vanilla to pair with the oatmeal breakfast.
Savory Quinoa Egg Muffins With Spinach
The delicious little egg muffins are perfect if you're looking for gluten-free diets. You can add quinoa for the texture, flavor, lots of proteins, and fiber. Then, pack it with spinach, onion, and melted cheese. Your healthy breakfast egg muffins are ready, and it is meatless brunch or a hand-held healthy breakfast on the go.
Acai bowls are a tasty, cool, delicious, and nutritious breakfast that you can prepare quickly in the morning. It is a complete breakfast in a bowl that has texture and flavor. The Acai breakfast bowl looks like eating healthy ice cream. It's perfect for those days when you require an extra energy boost to get up and go out the door.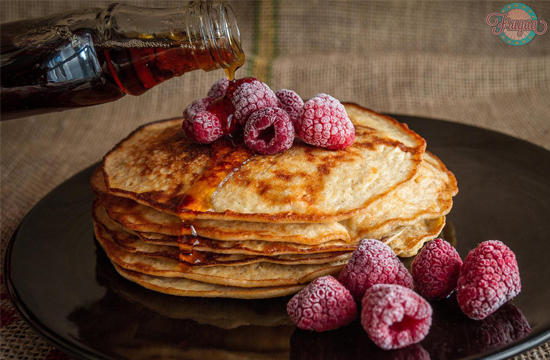 Buckwheat is used while making this cinnamon pancake because it makes breakfast more staple and improves the nutrition level in food. Cinnamon with maple syrup adds a wonderful flavor which makes everything more delicious.
You can call this healthy breakfast recipe a Greek omelet in a wrap. In this, you can add fresh spinach, feta cheese, and black olives & mix with scrambled effs in a tortilla. This is an effortless and hand-held breakfast for a busy morning. For customization, you can use whole-wheat tortillas to add fiber to the breakfast.
Whole wheat flour contains rich fiber, and adding oats makes the Applesauce bread a healthier breakfast option. In this recipe, you can add applesauce, nutmeg, cinnamon, and walnuts to add wonderful seasonal flavor. It also freezes well to make a few loaves at once. You can order all types of bread from The Prepared Pantry with up to a 40% discount.
It's the easiest recipe, and the banana bread bars will become your healthy, quick breakfast option for an entire week. The base is made up of toasted wheat bran & egg whites, and for the flavor, add bananas, walnuts, and cinnamon. You can eat it immediately or enjoy it with your morning coffee. To buy the bread online, you can visit Homemade Gourmet to save up to 20%. And for the coffee, you can purchase a coffeemaker with up to a 50% discount from Keurig Canada.
It's good to get high protein and healthy fat in the morning; such essential ingredients are available in Yogurt. You can prepare this breakfast with an instant pot. While the process is entirely hands-off, you'll want to begin your day before by letting the Yogurt incubate & chill.
Banana oatmeal muffins are a rich source of nutrition to start your day and boost energy. Bananas contain fiber, potassium, and oats contain antioxidants and vitamins. Combining these and making muffins will help to improve your digestive system and heart health.
To live a healthy lifestyle, you need to start your day with a healthy breakfast, and now you know what to prepare for your first-morning meal. So use all these ideas to create your healthy breakfast routine from now.