About The Popcorn Factory
When we enter to a movie theatre, we never forget to carry a bowl of popcorn. We enjoy every turning point, dialogue, romance or other drama-excitement with the elation of biting popcorn. A tin of popcorn is an essential part of gallery affairs. The cheesy, savory and caramel corn enhance our cheerful gathering. The Popcorn Factory has been satisfying the taste buds of US people for more than 30 years. The Popcorn Factory has shown us that popcorn is just not only a snack but it has to do a lot more than we can imagine. The outstanding collection of popcorn varieties let us understand the treasure of popcorn flavors.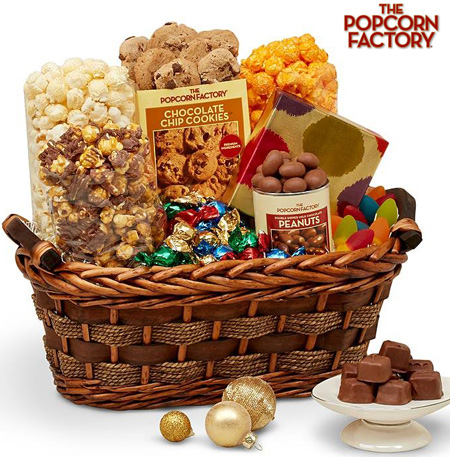 The Popcorn Factory has mastered in caramel popcorn, savory butter and extra cheddar-y cheese popcorn. Still, people do not know The Popcorn Factory's secret recipes that turn the simple corn grains into the flavored snack to make us feel the charming aroma. Once you enter into the orbit of this 'popcorn authority', you will know how the variations of popcorn can fit into every celebration. Just ask The Popcorn Factory, it will present you the charming aroma at the best price to please the occasion. The treasure of popcorn world is just few clicks away. Now you can order your favorite flavor through the online store ThePopcornFactory.com. It is the member of 1-800-Flowers, Inc.
Sister Companies: Fannie May Confections, Celebrations.com, Harry London, Celebrations.com, Winetasting.com, BloomNet, Cheryl's, FruitBouquets.com, Stock Yards and FineStationery.com!
World of 'The Popcorn Factory'
Order by Occasion: Christmas, New Year, Hanukkah, Birthday, Congratulations, College Gifts, Family Night, Just Because, Thank You, Get Well, Encouragement, Snack to School an Thinking of You.
Shop by Products: Popcorn Tins, Sugar-free & Lite, Towers, Gift Baskets, Samplers, College Team Tins, Sports Tins, Iconic Chicago, NFL Team Popcorn Tins, Care Packages, Movie Night Snacks and Best Friends.
Pick by Flavor:
Traditional Flavors- Butter, Cheese, Caramel and White Cheddar.
Specialty Savory Flavors- Jalapeno, Buffalo Ranch,  Cracked Pepper and Sea Salt Slim.
Specialty Sweet Flavors- Kettle Corn, Peanut Brittle, Almond Pecan, Cinnamon, Butter Toffee Almond, Toasted Coconut, Sour Green Apple and Cranberry.
Specialty Chocolate Flavors- Chocolate Drizzle, S'mores and Dark Chocolate Sea Salt.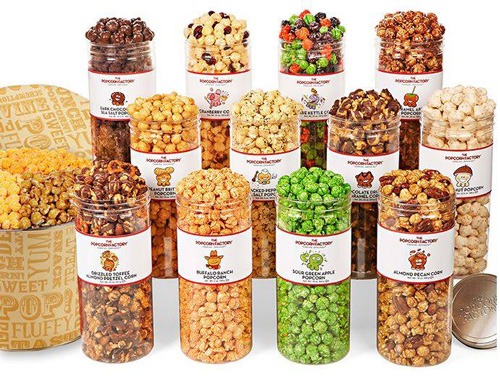 Other Options: Gluten-free, Kosher, Sugar-free, Vegan and Trans Fat-Free.
Shop By Price
Popular products-
Snack Boxes - $30.
Smiley Face Snack Assortment and 3-Flavor Popcorn - $34.
Savory Clear Favorites - $10.
18 Pack Popcorn Sampler - $35.
Say It In Color Sampler - $29.
Few Exclusive Products-
Minnesota Twins 3 - Flavor Popcorn Tins - $44.
St Louis Cardinals 3 - Flavor Popcorn Tins - $44.
New York Yankees 3 - Flavor Popcorn Tins - $44.
Smiley Face Tower - $50.
Birthday Party Cake Stack - $50.
Party Pup Fun Pail - $20.
Favorite Flavors-
Caramel Lovers Clear Canisters - $15.
Savory Clear Favorites - $10.
Specialty Clear Favorites - $10.
Sweet Clear Favorites - $13.
3-Canister Popcorn Sets - $30.
Fresh Flavors Club -$99.
Best Friends - Strawberry & Vanilla Cream - $30.
The Enchanting Deals
The Popcorn Factory knows what the hard-earned money means. They love to provide the recipes at the price as low as possible and not only that but also they come with many exciting offers to let you taste more.
Save 25% on Holiday Gift Collection.
Enjoy free shipping on select gifts.
Join the Celebration Reward program and earn points for  every dollar you spend.
25% off on any order.
$5 off on order over $20.
15% discounts on Premium Gourmet Popcorn.
The Popcorn Factory promises to satisfy whatever aroma your taste buds demand. They commit not to fail whatever they promise and that is why from selecting corn to secure packaging all is done under expert supervision. In spite of that if any product does not match with your satisfaction level, The Popcorn Factory is ready to value your expenses. Watch the YouTube channel of The Popcorn Factory to know more about the latest products and offers.
Redeem the Codes
Add the qualified product to the cart.
Got to cart and checkout.
Check the cart for all products that you wanted.
Proceed towards shipping and payment.
Enter your shipping details and after that enter the code to redeem.
After the amount is reduced, enter your payment details.
Pay and then complete the order.
Design the Gift
The Popcorn Factory gives you the unique idea to celebrate the occasion with the surprising popcorn gift pack. You can pick any of the choice from personalized gifts, fun gifts for kids, birthday gifts, college gifts or corporate gifts.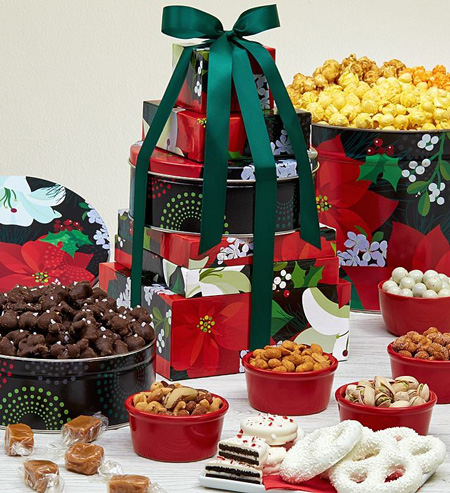 The Popcorn Factory has specially designed the corporate gift items into various packs to serve the various reasons of corporate celebration. The gifts include, Sales Promotions, Customer Loyalty, Employee Recognition, Thank You, Birthday, Congratulations and Corporate Holiday Gifts.
Customer Services
Shipping: It uses UPS and USPS to ship your order. If you want to have the order in a specific date, you have to choose the Overnight delivery service. To ship outside the continental US 'The Popcorn Factory' uses APO and FPO methods. The international order cannot be placed online. The charges depend on the shipping method (Ground, 2Day, Overnight, Saturday and AK-HI-Territories).
Cancel Order: If the order is not on the way, you can contact the customer care to cancel the order.
Personalize Gifts: All the gifts come with the labels and tags. Thepopcornfactory.com lets you personalize the labels and tags. For the corporate sector, it allows you to customize the corporate gifts to use it as Brand Recognition.
Customization options: Get the Company Name, Emphasize the Brand, Promote Contract information, Photo Labels, Gift Tags, Greeting Cards and Screen-printed tins lid & body.
Popcorn Card
The popcornfactory.com presents the Popcorn Cards that will fit with every occasion. This surprising gift card will enlighten the recipient's happiness. The promo code JBFREE lets you enjoy free shipping on the cards. You will be able to customize as you wish.
Social Media Presence
Contact Details
The Popcorn Factory Store
13970 West Laurel Drive
Lake Forest
IL 60045.
Phone: 1-888-238-8107
Email:  [email protected]