About Mrs. Fields
Mrs. Fields is a popular and premier chain of cookies and other baked goods which not only functions through its many stores but also through a dedicated e-commerce website as well. Started by Mrs. Debbi Fields back in 1977, the business has come a long way and spread its wings high and far. On the website, you will find a large number of delectable baked goods and delicacies in top quality packaging options. From gift baskets to brownies and from cakes to cookies, Mrs. Fields sells it all. The retailer also offers the option of corporate gifting which is a huge hit all over US.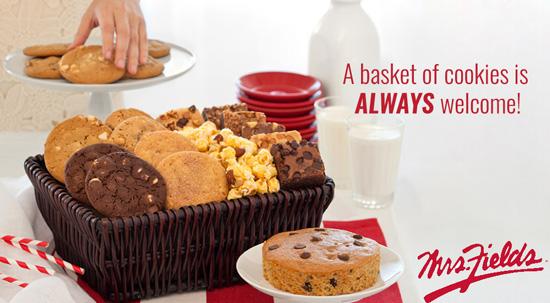 Fingerlicking Good Products
Mrs. Fields is not just popular for the finger licking cookies and cakes but also for the wide range of food products it offers for you to choose from. When you enter the website, you are welcomed by several product categories from which you can make your choice. The following are some of the main product categories you will find at Mrs. Fields:
Mrs. Fields signature
Cookies and nibblers
Frosted cookies
Cookie cakes
Brownies
Night at the museum
While shopping at Mrs. Fields, there is more than one single way to shop. Besides shopping by product category, you can also shop by gift occasion, shop by product, shop by price and also by corporate gifting ideas.
Check Out These Superb Offers
In order to make your shopping experience even better and definitely most tasty, Mrs. Fields offers some of the most tempting discounts and deals. There are always many offers waiting for you when you go shopping at either the website or the store location. Check out the top discounts currently running on the website:
10% off sitewide
20% off at a purchase of products worth $50 or more
Save $6 on Heart Desire tin
Pharaoh's Golden Tablet Gift Box for $34.99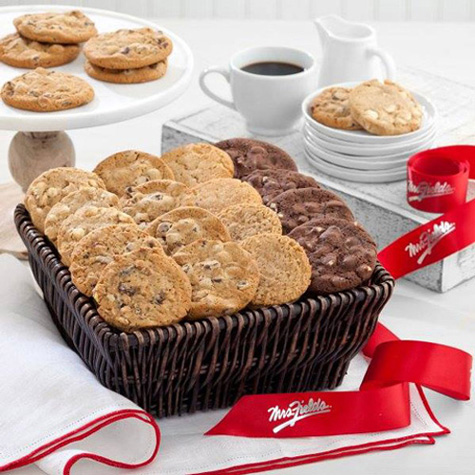 Besides these lovely discounts and offers, there is a section called 'SALE'on the website where you will find a list of all those products that are on a Markdown price. What are you waiting for, log on and shop on!
Save Using Coupons
Another amazing way to save your hard earned money while shopping at Mrs. Fields is to make use of your discount coupons. Discount coupons are an amazing thing; not only do they make the shopping experience better but also help you save on what you love-cookies! If you have a Mrs. Fields coupon with you, then you can save it by following the given steps:
Log on to the Mrs. Fields website and enter the product category from which you wish to make your purchase.
After entering the category, select the product or product basket that you would like to buy.
Keep adding the products to 'Cart' so that your final order can be saved continuously.
Once you are done shopping, go to the 'Cart' and proceed towards the checkout process.
While checking out, you will be asked to enter the COUPON CODE or the PROMO CODE of the coupon that you have with you.
On doing so, the discount amount will be deducted from the total payment and your coupon will be redeemed.
In order to get to know Mrs. Fields in a better way and to see what the entire retailer is involved in, you can check out its videos on YouTube channel.
Gift Cards and More
Mrs. Fields also offers you the option of sending across a Gift card to the ones you love. You can either email the gift card or have it mailed to surprise your friends or relatives with a bag of goodies. Check out Cherry Moon Farms and Starbucks Store for similar deals.
Custom Gifts
What is so special and amazing about shopping at Mrs. Fields is the fact that you can always get yourself a custom gift or basket made, according to your needs or requirements. The retailer gives you a chance to get a personalised gift made by adding a photo to a cookie box or gift basket. Ideal for gifting, these baskets or boxes can make anyone's day!
Customer Support
The customer support division at Mrs. Fields is very friendly, patient and effective. So if you have any doubts, queries or questions regarding a certain product or shipping methods etc. You can give the customer support staff a call or shoot an email. Your query will be resolved in no time to make your experience simply amazing.
Mrs. Fields Social Media Presence
Mrs. Fields has established a strong and active presence on all the major social networking websites in order to stay well connected with its customers and consumers. Even for customers, joining and following the retailer on social media is a good way to be informed about the latest products, ongoing discounts, upcoming offers and other major happenings and events. If you wish to connect with Mrs. Fields online, you can connect with it by following the given links:
Contact Mrs. Fields
Mrs. Fields Gifts Inc.
1717 South 4800 West
Salt Lake City
Utah 84104
E-Mail: [email protected]