Finish Line Coupons & Promo Codes 2020
Finish Line offers premium selection of running shoes, basketball shoes for men, women and kids. Finish Line has between 600 and 1,300 different kinds of athletic footwear, including basketball, running, walking, gym, aerobics, hiking, cross-training and skate shoes, not to mention cleats, casual shoes and sandals.
About Finish Line
Finish Line is a leading American athletic retailer with over 650 stores in 47 states. The store began in 1976, as 3 former runners, Alan Cohen, David Klapper, and John Domont decided they wanted to run a store dedicated to providing customers with the best-of-the-best in athletic footwear. They began buying "The Athlete's Foot" franchises, and eventually took on two more owners and opened up the very first Finish Line store in 1982. Since then, Finish Line, Inc. has dedicated themselves to giving customers access to professional-level sporting apparel, specializing in footwear. With the speed with which this company has grown over the last 30+ years, it is clear that they are doing something right. Finish Line is also offering Free Shipping on a number of their online products.

FINISH LINE PRODUCTS
Men - shoes, apparel or accessories.
Women - shoes, apparel or accessories.
Kids -shoes and clothing for boys and girls.
Sale - men, women, boys or girls.
Fan Gear - college, NFL, MLB, NBA, NHL, etc.
Brands - Nike, Nike Track Club, Air Jordan, Adidas, Reebok, Under Armour, Brooks, Puma, Timberland, Asics, New Balance, Polo, Converse, Mizuno, The North Face.
Gift Guide - 2014 gift guide, shop by price or shop by activity.
TOP CATEGORIES & BRANDS
2014 Holiday Gift Guide
The Brave Breeze
Crisp Air Fresh Look
Release Calendar
Winner's Circle Rewards Program
Hot on the Blog
Reebok
Adidas
Air Jordan
Nike
Puma
Polo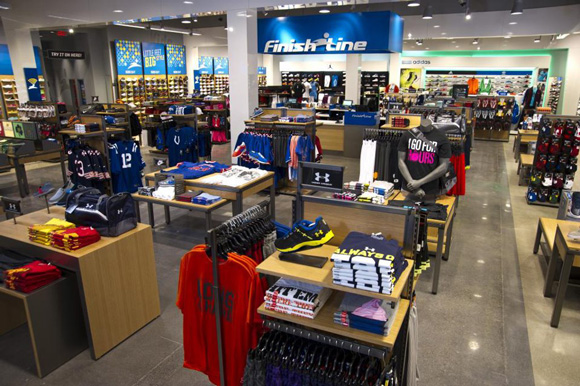 COUPON REDEMPTION
Loyal shoppers can join the "Winner's Circle Reward Program", Finish Line's loyalty program. Members of this great program will receive $20 rewards for every 200 points that are accumulated, seasonal coupons, free shipping offers, early access to some new products, exclusive opportunity to be a part of launch product drafts (to try new products before they are available to everyone). To make the program more user-friendly, Finish Line offers a mobile app dedicated to tracking points and rewards as you go, so you'll always know how your purchases are helping you save more.
Finish Line also offers a number of online coupons:
$10 off $100+ sitewide.
$20 off $200+ sitewide.
College fleece 2 for $35 + free shipping.
2 select Nike elite socks for $15.
Men's basketball sale items up to 70% off.
Free Shipping on select products.
For many of the coupons above, you will need to enter a code upon checkout. Just enter your code in the box titled "Use a Coupon" and click on the "Apply" button. You should see your discount reflected on your total and then carry on with the payment and shipping details. For similar savings and range of products, you can also check Forever 21.
SHIPPING DETAILS
At the moment, Finish Line, Inc. only ships to addresses within the United States. For US customers, they do offer a variety of different shipping options. Finish Lines exclusively uses the United Parcel Service for their deliveries, who offer economy, UPS ground, rush, and express delivery. Cost of delivery depends on the weight of the item(s) and the speed at which the customer would like the item delivered. Free shipping offers apply to economy shipping.
On Finish Line, Inc.'s YouTube channel, fans can view commercials for new products, promotional videos and fan videos. Their channel currently has over 6,000 subscribers.
GIFT CARDS AND MEMBERSHIPS
Finish Line offers both regular gift cards and e-gift cards for its consumers. Finish Line also offers its customers with a membership program, called "Winner's Circle Reward Program". Customers who are enrolled in this program can accumulate points for every purchase they make. They can use these points towards purchases in the future. In addition to points, Winner's Circle Reward Program members receive lots of special offers, including the opportunity to try out new products (members are entered into a pool from which testers are drawn). Members can keep track of their rewards via mobile app.
For Android
For iTunes
SOCIAL MEDIA
Finish Line has a vast presence on social media platforms, including Facebook, Twitter, Pinterest, Google Plus, and a company blog. One unique item that sets Finish Line apart from its competition is its company blog. This blog does not just contain deals and upcoming events; it also relevant editorials about exercise routines, how to get the best out of your apparel, sports-related stories and much more.
CONTACT INFO
Finish Line, Inc
3308 N Mitthoefer Rd
Indianapolis, IN, 46235
United States

Customer Service: 1-888-777-3949
Live Chat is also Available